Welcome to QCTIS,
a contract Radiology and consultation firm.







QCTIS Ltd is owned and operated by Dr. Edwin van Beek, who has built up a reputation in the Cardiothoracic imaging field with interests in multimodality imaging (CT, MRI, and PET-CT) as well as quantitative assessment of diseases and the use of imaging as a biomarker. Dr. Van Beek founded the company following the successful sale of his first company, Quantitative Imaging of Iowa, Inc. to VIDA Diagnostics in 2009. The business aims to provide consulting services in preparing imaging protocols for incorporation into (multicenter) clinical trials, and has been involved in multiple projects in the thoracic, oncologic and bone mineral density imaging domains.
Education
MD (Erasmus University Rotterdam), PhD/Clinical Epidemiology/Radiology residency (University of Amsterdam), MEd (University of Sheffield), FRCR (London), MD (State of Iowa), FRCPE (Edinburgh).

Background
Dr van Beek received his initial education in Rotterdam, the Netherlands, but also received undergraduate education at Coe College, Cedar Rapids, Iowa. He gained his MD at Erasmus University Rotterdam. Following an initial career in Surgical specialities in the UK and in Amsterdam, he embarked on his PhD in the field of Pulmonary Embolism and Deep Vein Thrombosis, gaining an international reputation in the process. He participated in multiple clinical trials, both in the therapeutic and diagnostic domains. He has since published extensively both in this field and in the more generic arena of Cardiothoracic Radiology and its multimodality aspects. He also published three text books and authored multiple book chapters.
Dr. E.J.R van Beek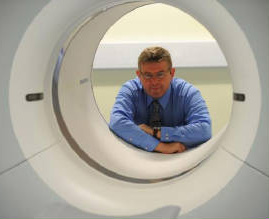 Primary Contact
89/3 Holyrood Road
Edinburgh EH8 8BA
Phone: +44.780.1573722
Email UK:
qctisuk@gmail.com
Secondary Contact
26 Thistle Ct
Iowa City, IA, 52240
Email US: qctisinc@gmail.com
Career
Following his Radiology residency at the Academic Medical Center, Amsterdam, he worked as a Senior Clinical Lecturer at the University of Sheffield, gaining promotion to Reader. He was instrumental in establishing a PET-CT service, and participated in several European projects. Between 2004 and 2009, he served as Professor of Radiology, Medicine and Biomedical Engineering at the University of Iowa. He was extensively involved in multiple NIH sponsored multicenter trials, and collaborated on the development of software tools for lung nodule detection and for quantification of pulmonary parenchymal diseases. He established a Cardiac CT service together with his Cardiology colleagues. In 2009, he took up the Chair of Clinical Radiology at the University of Edinburgh, UK where he is Director of the Clinical Research Imaging Centre. He globalised the QCTIS business and moved the company's headquarters to Scotland, offering clinical services as well as consultancy.